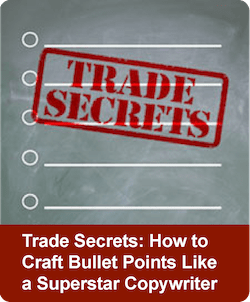 They're one of the most powerful copywriting tricks you have at your disposal.
They can transform your writing from sterile, weak and lifeless copy into high-impact content that everyone wants to read and share.
But do you really know how to use bullet points properly? And do you know how to exploit them to their full potential?
Not quite sure?
Then I'll show you some of the deviously clever ways superstar copywriters turn boring, everyday vertical lists into super-charged bullet points that leap off the page.
But first of all let's quickly recap the basics, starting with why bullet points are so effective.

Read More ►