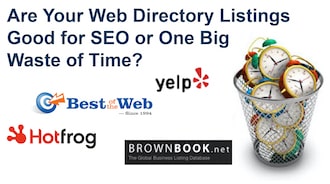 I want your opinion.
What I want to know is whether you've ever submitted your website to online business directories.
But, more than that, I want to know whether it was worth the bother.
The reason I ask is this: Some people claim they get worthwhile results from them, while others reckon they're a complete and utter waste of time.

Now I've given a few a try. Some were general everyday business listings, some were paid submission and others were niche directories specifically for freelances and copywriters.
Yet I can't say that any of them have really done that much for me.
But does that mean to say that online business directories are just a loser's game?
Well, not necessarily.
So before you make up your own mind, let's at least take a closer look at some of the benefits that online directory listings may have to offer:
They Get You Your First Few Backlinks Fast
When your website first goes live, it is an island – no links in, no links out and little or no way for potential visitors to find you.
So what you want to do is get your website hard-wired into the net as quickly as possible.
With most online directories, especially the free ones, you can hardly expect the highest quality backlinks. But when you're first starting out beggars can't be choosers. So, for what it's worth, you may as well get a few nice and easy SEO points under your belt.
They Show Up Well in Local Searches
The competition for general keywords, such as copywriter or freelance writer, is far too strong for all but the big boys.
So you should identify a niche area of your service where, by nature, the competition is much lower. Because you have a far better chance of standing out in specialist search queries.
The most obvious place to start is to target local search.
This is often where online business directories can give you a real leg up right at the start.
To see what I mean, take a look at the following screenshot of an experimental search query I made a couple of weeks after my own website went live last October: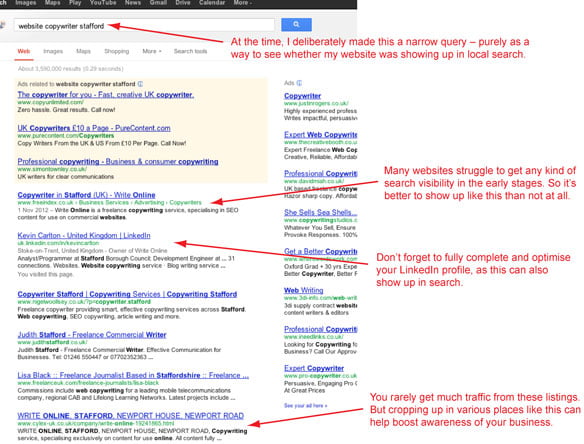 What I found was that, although my website immediately ranked well in Google.co.uk for some of my target keywords, my site was nowhere to be seen in local searches – even when I performed highly specific keyword queries such as website copywriter stafford above.
Yet, as you can see, two online directory listings – which I'd set up just a matter of days before – were already showing up prominently in local queries.
In other words, don't discount directory listings if your website is fairly new, because in the early stages many of them will outrank your own site in local search.
They're a Quick and Easy Solution for Small Local Clients
If, like me, you're a freelance copywriter then you've probably worked with many small local businesses in your time.
But often the problem working with small clients is that they can barely afford someone to write and optimise their website content, let alone pay for an ongoing SEO campaign.
What's more, they simply don't have the time or wherewithal to do it themselves.
Yet all is not lost.
Competition in local search isn't generally that tough and few competitors tend to know much about SEO either. So getting listed in a few local and general business directories could be as much as they'll ever need.
And because it's fairly quick and easy, it's something clients are usually happy to do for themselves.
But there's one more thing also worth remembering …
One size doesn't fit all
If you were looking for a copywriter then, let's face it, you probably wouldn't look in an online directory to find one. But if you were looking for a local florist, second-hand car dealer or gas fitter then you probably wouldn't think twice about it.
In other words, online directories may be load of old pants for some types of business but still the perfect place to advertise for others.
Have Your Say
Despite having submitted to web directories myself, I'm not 100% convinced by them. That's why I'd love to hear from you.
So have you tried listing your own website? Was it worth your while? Share your experiences in the comment section below.
In our next post: We'll be looking at two crafty conversion tricks, inspired by eCommerce, that you can use on your website.


About the Author

Kevin Carlton is an IT copywriter and blogger based in Stafford in the UK. He is owner of freelance copywriting service Write Online, which helps technology companies get the most out of their online presence.