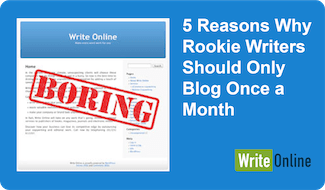 Some say you should be doing it several times a week. Some so-called SEO experts even say you should be doing it every day.
But do you really need to mass-produce blog posts like a factory assembly line in order to build up your following, move up the search engine rankings and attract more lucrative clients?
Well, it certainly seems to make sense doesn't it?
I mean, you only have to look at a few of the many good reasons to do so and it would seem like a no-brainer:
The more often you post the more often you engage readers
You're rapidly expanding your site with new, unique and relevant content
You're creating more and more entry points to your site
You're telling search engines that you update your site regularly
Now, I've had my copywriting website for just over six months now. And it's ranking well and getting enquiries. So do you think that I blog once, twice or maybe three times a week? Or even several times a day?
You must be joking!

In fact, I only blog once a month. Any more frequent than that and, at this early stage of my own online marketing activity, all that extra effort would simply go to waste.
So what's the reason why?
As it happens, I have a whole bucketload of reasons. But if had to list just a few, these would have to be the five most important of all:
1. You've Got to Learn the Blogging Style
One of the key secrets to successful blog writing is keeping it informal and keeping it conversational.
So jump straight in and start blogging in a cold, corporate and conventional writing style and you'll bore the pants of your readers in next to no time.
Instead, you need to dedicate some time to develop and improve your writing in the time between publishing each of your posts.
For example, by observing how old hands write on popular blogs, such as Copyblogger and ProBlogger, and quality blogs dedicated to website copywriting, such as SEO Copywriting and Kate Toon Copywriting, I was able to adapt my writing style as I went along.
2. You Have to Market Your Posts
Sometimes you can talk as much as you like. But if nobody's actually listening there's not a lot of point really.
That's why it's just so important to market your posts.
And I don't mean just posting them to social media. You also need to network online by commenting on other blogs and mingling with like-minded people in social media hangouts, such as Facebook and LinkedIn Groups.
Not only are these people more likely to respond to your posts and subscribe to your blog, but many of these gatherings are places where you can learn great new stuff and also pick up new ideas for your posts.
But if you really want to build influence, get exposure and ramp up those subscriber numbers then there's one thing that you really should do at one stage or another.
And that's guest posting.
What's more, not every website expects you to guest post for free. Some do actually pay you to blog for them.
And you can find an excellent list of pukka websites that do pay writers just here on another great freelance writing blog Make a Living Writing.
3. You Want to Offer New Insight
Your blog will be competing with hundreds or thousands of other websites that talk about writing, blogging, social media and SEO.
So if you want to stand out and get people to engage with your posts you'd better have something new, informative or powerful to say.
Now do you honestly think that a blogger who is completely new on the scene is capable of doing this every single day?
Somehow I just don't think so.
4. You Should Focus on Quality
NOT

Quantity

On the same lines, quality doesn't half beat the hell out of quantity – every single time.

Remember: very few people ever feel inclined to comment on a lousy post or subscribe to an inferior blog.

But if you can nail just one high-quality post every month for now, instead of alienating readers by pumping out mediocre material day after day, you'll have a fighting chance of seeing those visitors return to your site for more.

And another thing …

Your blog is also very much like your online portfolio.

Hundreds of low-grade blog posts, only written for the sake of SEO, aren't going to impress any prospective client. However, a few carefully crafted quality posts certainly will.
5. You Need to Personalise Your Blog
Don't you find it incredibly tedious how, on so many blogs, everything looks the same?
No matter how good your content, if you're using a default WordPress theme and the same old search widget, tag cloud and category list in your sidebar then your blog will never have a chance in high hell of ever standing out.
So before you ramp up your blogging efforts and start posting more frequently, you want to make sure your blog offers a unique experience and has all the elements in place so that both you and your visitors get the most from of your website.
You could offer free exclusive content to any reader who signs up to your email newsletter. You could show testimonials, or other forms of social proof, in your sidebar.
You can even stick a few affiliate ads on your site. Not only can they be a great starting point for monetising your blog, but readers may actually appreciate a few carefully selected ads, provided you're promoting something that they might actually want or need.
But what else can you do?
In short, loads as it happens. But that's for another post.
However, if you do want to explore further and find more ways to add those all-important personal touches to your blog then popular social media and blogging sites, such as Kikolani and Social Triggers, are probably your best places to start.
Have Your Say
These are some of the reasons why I'm still writing just one post a month. In the meantime, I'm researching, tweaking, personalising and networking online.
Are you doing the same? Please let us know by leaving your comment below.
In our next post: Are online directory listings one big waste of time?


About the Author

Kevin Carlton is an IT copywriter and blogger based in Staffordshire in the UK. He is owner of freelance copywriting service Write Online, which helps technology companies get the most out of their online presence.