(Last updated on September 11, 2014)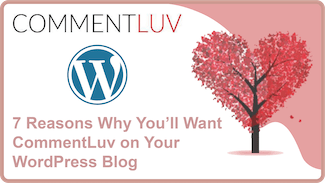 Have you ever noticed in the comment section of certain blogs a small additional feature, called CommentLuv, where you can place a link to your most recent blog post against your comment?
If you're not familiar with it then take a look at the comment section for this post. And if you want to see how it works in practice then go ahead and try it out when you've finished reading.
What Is CommentLuv?
Basically it's a WordPress plugin designed to reward readers for taking the time to comment and engage with your blog.

It works by asking you to enter the URL for your blog's home page. Then, while you type in your comment, it visits your own site and retrieves a list of your recent posts.
When you're done, you simply choose which post you want to include as your link. CommentLuv then displays that link directly below your comment, using the headline of your selected post as the anchor text.
Why Readers Love It
1. Headlines Draw More Attention to Your Link
If you're building online relationships through blog commenting then it's only natural you want other people to find their way to your own blog and check out your content.
Now most commenting systems allow you to link back to your own site – which is great.
But the trouble is they generally offer you just a single link back to your site and display the anchor text as your name. As you can imagine, just a person's name in the visible text of a link isn't very interesting. And it's not much of an incentive to click on it either.
This is where CommentLuv is different.
As well as providing a link showing your name, it also offers a second one displaying the headline of one of your posts. So if the headline for your own blog post is strong then chances are good that other readers will notice it, click on your link and visit your own blog.
Here's an example of a comment about the very same subject I made on Kikolani earlier this year:

2. You Get More Links That Search Engines Follow
Long gone are the days when backlinks from comments had any significant positive impact on your search engine rankings.
But, when you comment on most CommentLuv-enabled blogs, you do at least get something back for getting involved in the conversation. Here's why:
By default, the comment links in a standard WordPress blog are set to nofollow. So, when you comment on most WordPress sites, you get no SEO benefit whatsoever.
On the other hand, when CommentLuv is installed, the blog owner has the option to set outbound links to dofollow. This means that search engines do give your backlink some value – however small it is.
When a link contains the nofollow attribute, search engines generally ignore the link and don't pass any SEO value to the page it links to.
3. You Get Links to More Interesting Pages on Your Site
Ask yourself why you're reading this post right now. You're not out to buy anything, but looking for knowledge, professional tips or topical discussion.
Therefore it surely stands to reason that most other readers are doing the same too.
So imagine you make a comment on this blog. And other readers are given a choice between visiting an interesting post you've written or a sales-oriented home page. Which one do you think they're going to choose?
That's right.
The blog post that provides useful, informational content.
4. You Get Links to Different Pages on Your Site
When you regularly contribute comments to a blog, the blog owner and other visitors will soon start to notice you. And, at some stage, many of them will click on your link and check you out.
However, the vast majority of blogs only let you include a link to your home page. So, with every comment you make, you get the same link back to your site over and over again. So after someone's made their first visit, your link will never show anything to suggest they should visit again.
By contrast, CommentLuv links to one of your recent posts. This means that, whenever you make comment, you have the scope to link back to a different page on your site.
And when other people see a link to something different, they have new reason to visit your blog once again.
5. You Can Include Keywords without Being a Spammer
It wasn't long ago when SEOs told us we needed relevant keywords in the anchor text of links back to our site.
But things have moved on. Sure, keywords still matter – but only when they occur naturally in our links.
Now consider this.
When you write a blog post headline, your keywords should be natural, make perfect sense and tell readers and search engines precisely what your post is about. So if that headline appears in the anchor text of your CommentLuv backlink then much the same will apply.
And think about it another way. When it comes to your anchor text, what could be more natural than the actual title of your post?
Why Bloggers Love It
6. You Give Readers More Incentive to Comment
Virtually every blogger should be looking for ways to encourage comments on their posts.
Not only do they foster a community spirit around your blog, but they also give it more credibility.
What's more, comments are value-added user-generated content. And they often make fascinating additional reading.
So if you can reward readers for their contributions, which is what CommentLuv does, then people are far likelier to join in.
7. Your Blog Becomes a More Valuable Resource
By showing links to posts on other blogs, your comment section offers readers access to a whole host of other interesting content.
This will give them a much richer user experience.
And that means more incentive for people to come back to your blog in search for more.
Have Your Say
Do you use CommentLuv on your own blog? How do you find it? Tell us your views and experiences below.
In our next post: Discover the non-existent words and phrases that have the potential to make YOU look like a halfwit copywriter.


About the Author

Kevin Carlton is an IT copywriter and blogger based in Stafford in the UK. He is owner of freelance copywriting service Write Online, which helps technology companies get the most out of their online presence.