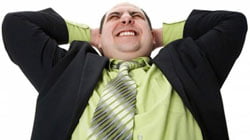 Running your own website copywriting business sure beats working 9–5. It can be fun and, yes, it can be rewarding. But one thing it definitely ain't and that is easy.
Yet, for some reason, many of the people I know assume that it's all just a piece of cake. I mean, virtually everyone knows how to write, don't they?
If only it were really that simple.

Writing for Websites Is Different
The first thing most people fail to realise is that writing content for a website is a million miles from all that stuff you once learnt in those English lessons at high school.
The point is that prospective clients aren't really interested in your literary skills and neither are their customers. The same goes for search engines too.
What they want is lots of useful and meaningful content about your products and services. That way, they will have far more to go on when deciding what your website is about and will have all the information they need to help people find you in search.
On the other hand, what website visitors want is, on the surface, something entirely different.
They are impatient and want you to the cut to the chase as soon as possible, but at the same time still giving them all the information they need to make a decision to buy.
Combining these two elements can be difficult and takes a lot of time-consuming research and planning.
And so the mark of a truly accomplished website copywriter is perhaps NOT so much their ability to write BUT more their ability to arrange information – in other words, how they organise and structure what they write.
Writing a Blog Is Also Different
Let's face it, a commercial blog is pretty pointless if it doesn't drive traffic to your or your customer's website.
So if you want to make a real go at blog writing as a means to making a living then first you'll need to understand how to market your posts so that people can find them.
Then you have the issue of consistently finding something interesting to write about so that people actually read your blog.
And even then your job isn't finished, as you still need to fulfil your ultimate objective – that is to get a regular flow of readers clicking away from your blog and through to your website.
But this is all for another time and we'll be tackling this in detail in future blog updates.
Being Freelance Means Being a Business
Finally, no matter how good a copywriter you are, if you're going to be a freelance, you'll still need the business skills to back it up.
All of us are surely aware by now that most businesses fail within the first two years. So why should you think that your new website copywriting venture will be any different from any other business?
In my experience, one of the most difficult aspects to running a business is pricing your services.
But, as free online business resource The Start Up Donut discussed in an article earlier this year, there are many other pitfalls to starting up a new business and many different reasons why they fail.
So there you have it. Although I've barely scratched the surface here, you should at least have a better idea as to why being a website copywriter isn't as easy as it first appears.
But if you still think you have what it takes to be a website content writer, then in my next post I'll be introducing you to several brilliant online resources that no website copywriter should ever be without.
In our next post: Check out our list of 5 world-class blogs that every content writer should read.


About the Author

Kevin Carlton is an IT copywriter and blogger based in Stafford in the UK. He is owner of freelance copywriting service Write Online, which helps technology companies get the most out of their online presence.
As seen on: