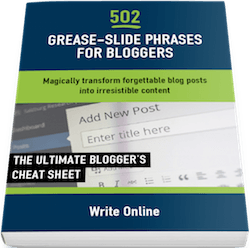 It's a question that drives you nuts.
Why some blogs cast a spell over their readers. Yet nobody wants to know yours.
And you just can't figure it out.
Well, the answer could be something about your writing. Something that's missing. Something other writers are doing that you're not. Something you need to uncover right now.
And that something is grease-slide copy.
What Is Grease-Slide Copy?
Grease-slide copy is a magnetic writing technique that keeps your readers glued to the page.
Copywriters use it in sales letters. Top bloggers use it in their posts. And now you can use it too.

Read More ►